Cycle trailers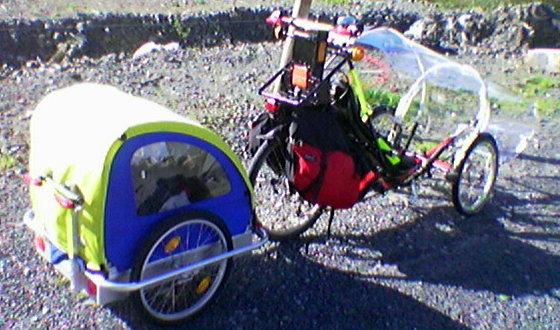 I have a Brüggli Leggero Classico trailer for the recumbent. It's built with a seat to carry toddlers, but, not having any toddlers, I use it simply as a luggage trailer.
The only modification I've done to it so far is to fit a bracket to take the same rear lighting bar that I use on the recumbent itself.
Previous trailers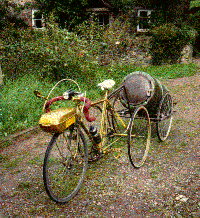 I strongly recommend using a trailer rather than panniers -- the handling is very much better (provided that you can handle it down-hill, without jack-knifing). Here's my (delta) trike and trailer combination -- a ten-foot long five-wheeler pedal cycle!
When I rode uprights, I used to have two kinds of trailers, one little upright Bike Hod, which I fitted only on the trike, and a bigger proper one with real cycle wheels, for which I have tow brackets on both bike and trike. The larger trailer (a Croysdale, no longer in production) was built with a ready-made frame with a water barrel for the body... I was looking for suitable materials to build the body, and spotted that such barrels are just the right size for this kind of frame. With more forethought, I would have built the wheels using brake hubs.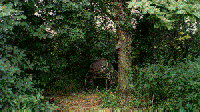 The larger trailer was painted to blend into the background in the countryside, so I can leave it inconspicuously hidden in woodlands when on camping holidays. I can fit into it all I need for a long camping holiday, with room to spare, and without having to fiddle round trying to cram things in as one does with panniers or rucksack... tent, awning, food, changes of clothing, water tank... much less fuss this way!