Camping
I love camping, and being and living outdoors generally.
My long camping holiday, 1988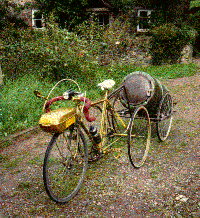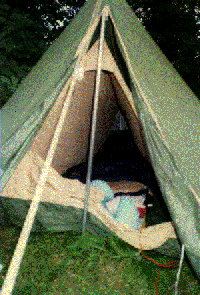 In the hot and rather dry summer of 1988 (between finishing the full-time part of my PhD and starting my long-term job), I went for a month on a cycling and camping holiday, travelling around 60 miles per day with my delta trike and trailer, sometimes camping overnight in my tent (a fairly ordinary two-layer one, comfortable for one, a tight fit for two, and a good colour for being inconspicuous against many kinds of background),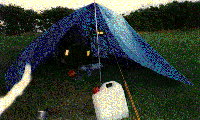 and sometimes putting a plastic-groundsheet awning up over the trike and trailer, which I'd park with the articulation at a right angle, with a single tent-pole in the corner opposite the corner of the L-shape that they formed -- roomier but draughtier than a regular tent!

This holiday took me from Cambridge across the Midlands to the Welsh border, where I stayed for just over a week at Glasshampton Monastery.
Other camping
I've also camped without a tent, living for a while in a tunnel.
With my old car, a large estate (station waggon), I camped in the back of my car -- that car, Cedric-San the Nissan Cedric, being long enough for such purposes.
Now I have replaced the car by a Land Rover called Marmalade and expect to do a lot more vehicular camping. Marmalade being a long-wheelbase hard-top Land Rover (with bench seats facing each other in the back, rather than station-wagon style seats), I can sleep in the back, but...
I have now fitted an Eezi-Awn roofrack tent; I've used it quite a bit and it is very comfortable. The tent is easily wide enough for two; so it should be possible for four people to camp altogether in the vehicle plus tent... or with the optional rear awning under the tent, that would be six... and with side awnings, even more!
But with my Mountain King sleeping-bag, there's not much need for further protection -- I've dossed down in it in a porch in Budapest at New Year without getting too cold!
Camping inside the Land-Rover works quite well, but can be a little cramped -- anything I'm carrying in the vehicle has to be put up on the seats out of the way; also the condensation is a problem.
Very primitive camping
I like the idea of camping in a rough shelter of stones, sticks and so on... perhaps somewhere really remote.
Another variant on that would simply be sleeping on the ground with nothing... no tent, no sleeping-bag, no groundsheet... the weather is often good enough for this in the summer, and the time I gave up my bed (a thinnish futon) for Lent I didn't notice any difference... I'll let you know how it goes!