Living in a tunnel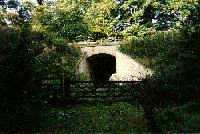 While doing my PhD at Bath University and between having to leave one flat and being able to move to some other building, I camped for about a fortnight in a tunnel under the A36 near the old Carthusian Priory at Hinton Charterhouse, not even needing a tent -- I just slept in my sleeping-bag on a karrimat.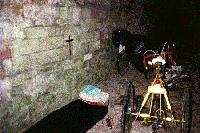 It was about 50 feet long, 12 feet high and 10 feet wide, brick-built with a concrete floor. If I found a nodal point in the resonance of the tunnel, the noise of traffic overhead wasn't too bad.
To the west, I had a view of the old Hinton Charterhouse Carthusian Priory, and to the west, a view over a beautiful wooded valley, with a large glade, the Vilet, in it.
While away from the tunnel in the daytime, I hid my sleeping-bag and mat, and the few other things I had there, in a green bag which I hid under some plants, and hid my cycle trailer (green, with brown camouflage stripes) in the bushy undergrowth.
Although I had untreated long-term depression around that time, my time in the tunnel was a happy and relaxed time... much more pleasant than living in a proper building with a lot of possessions! At first I felt I was mildly adventurous living there, but soon had the problem that it felt too homely!