The Vilet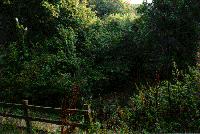 Between Rosemary Lane, Freshford, and Hinton Charterhouse Priory is a a beautiful wooded valley, containing a large glade, the Vilet (so called because it's shaped like a fillet of fish, I am told).
This was a delightful place to wander in calm, surrounded by the deciduous woodland, and rarely disturbed. The grass and other plants were often wet with dew, and the whole place breathed freshness.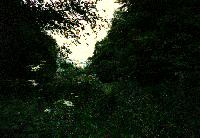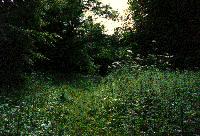 Around the entrance to the glade grow some strange, primitive plants, which on flowering proved to be some kind of snapdragon. The road is invisible from the tunnel that I used to camp in (and the tunnel invisible from the road). A footpath goes past the valley end of the tunnel from the valley then up a flight of concrete steps towards the road. From the top of the steps, another path starts into the woods, eventually joining a path that emerges into the Vilet, so I could go for a run starting in that direction finishing with coming up through the Vilet to my camp.
To the horror of people living in the area, the government was hoping to run a replacement for part of the A36 through Lower Limpley Stoke, Freshford and this beautiful valley; fortunately these proposals have, as far as I know, now been suppressed.