Freshford
In my first and second postgraduate years, I lived in digs in the village of Freshford, in Somerset (although at that time, that part of it was called Avon for official purposes, to the great resentment of those who lived there).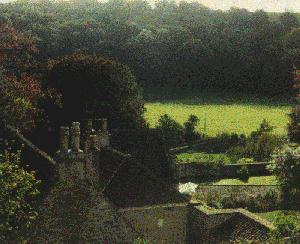 Freshford is in a moderately rural area, although probably most of the population commute into Bath and Bristol and other nearby towns.
Surrounded by fields and woodland, it's a delightful base for wandering around the countryside; I did quite a bit of the more complicated thinking for my PhD while walking along paths around here. I can still remember where I thought of some particular ideas!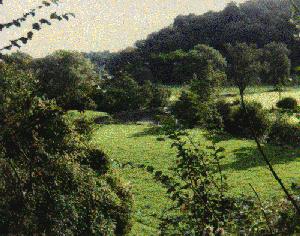 It's a beautiful village, rising from a crossing of the River Frome just above its confluence with the River Avon.
My dwelling in Freshford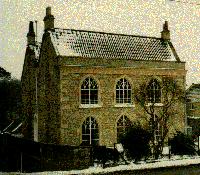 In my first year I lived in this house, which was timber-framed within although (probably later) clad with stone (and still later, with stucco, which was removed shortly before I took this picture).
You can also see it on the right in the distance on this page on freshford.com.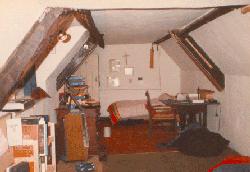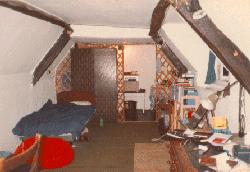 My room in this house was in the attic; a long room, with the walls sloping in under the roof, and wooden beams showing. One end was trellised off to make a kitchen, and I also stored my more practical stuff in that area. The washing area was outside on the landing.
A room like this would make more than a comfortable basic house in its own right!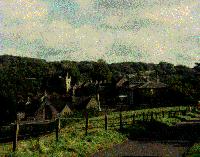 To the west of the main part of the village are two long strands of housing, Freshford Lane leading to Park Corner and the upland hamlet of Pipehouse, and The Tyning (a green along the top of a steep wooded hill) leading to Sharpstone (along a spectacular steep hillside) and Rosemary Lane, which plunges down to Dunkirk Mill, from where a footpath leads along the side of a wood to the beautiful Friary Woods Hamlet, a group of about 6 houses in a riverside clearing in woods.
It is said that ``Dunkirk Mill'' and ``Rosemary Lane'' are Victorianisms, and that the original names were ``Dungcart Mill'' and ``Shitten Lane'' as the local midden used to be at the bottom of the hill!
Freshford is in a group of parishes; next to it is Limpley Stoke, and further away, on the higher ground, is the more rural village of Hinton Charterhouse.
I used to cycle to and from the University most days, and my routes crossed the remains of the Somersetshire Coal Canal at various points.
---
Freshford now has its own web site.