Marmalade the Land Rover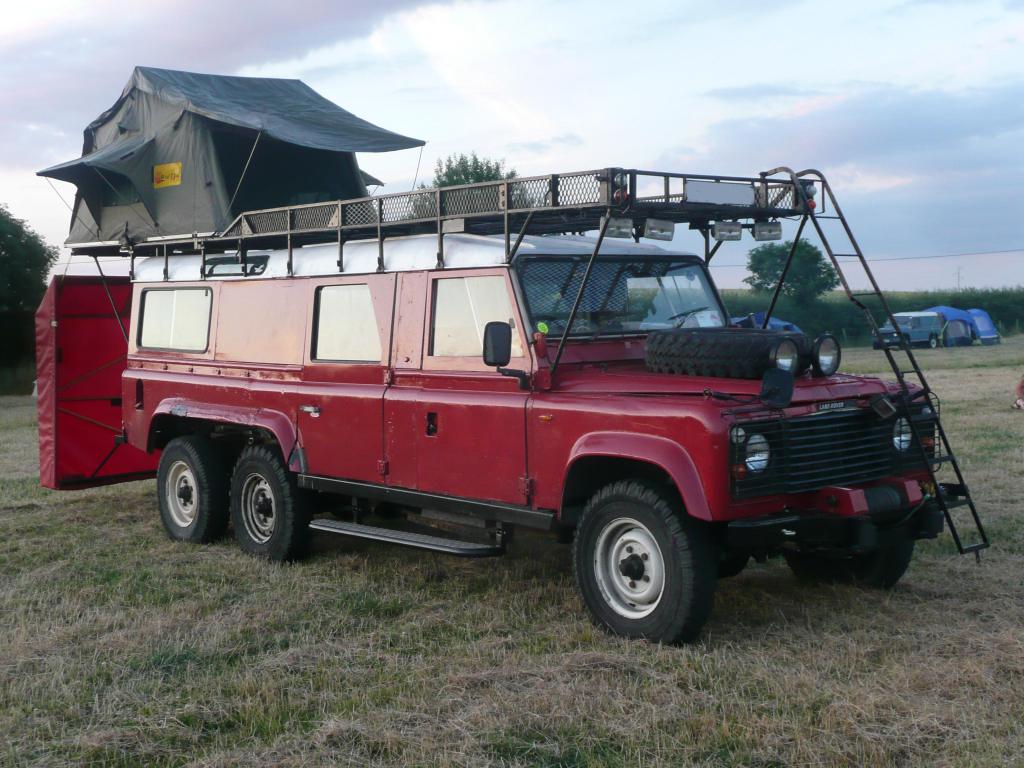 My Land Rover is a diesel 170 hardtop, called ``Marmalade''.
He does most of his miles getting me around the place, to work and so on, but also we sometimes go green laning and sometimes camping.
The name

Marmalade got his name from a conversation with a friend in which we agreed that with things you don't buy often (such as marmalade) it's worth going for a good one.
In my very first attempt at extending my calligraphy to include signwriting, I painted his name along the front of the bonnet.
Modifications
Land Rover owners generally customize their vehicles to some extent. I've done quite a bit of this, starting with a rewiring of the internal lighting, fitting of a storage box and coat hooks.
Here I list some of the most useful ones:
Rear proximity mirror

This is over the rear door, pointing down to the towing bracket, enabling me to reverse right up to things without hitting them. I reckon I can stop with under an inch to spare without risk of hitting whatever I'm parking next to.

Internal lighting

Now as well as the lighting in the load area, I've also installed some MR11 LEDs, as map-reading lights, and a number-plate light in each footwell and one behind the front seats, for finding dropped tools etc when working at night.

Soundproofing

I've lined the ceiling with sound-deadening felt and carpet -- this makes quite a difference as otherwise the roof acts as a sounding-board for the engine and road noise.
This warms the engine before I start it (and can demist the windscreen too).
I also got the roofrack extended partway over the bonnet to keep a useful amount of open space on the rack. I used the heater out of an old Mini to blow hot air into the tent, getting its heat from the Eberspächer.

Extra lights

I've fitted a variety of extra lights, controlled mostly from a home-made switch panel in the cab ceiling.

Spotlights just under the front of the roof rack

Here they're out of the way of branches and rivers.

Aimable lights on the roofrack

These can be pointed by reaching out of the window --- useful for looking for housenumbers, and many other things.

Second battery

With two batteries, you can risk running one down while camping, and still have the other fresh and ready to start the vehicle in the morning.

Wing and bonnet guards

It's convenient to be able to climb up the front, as well as using the ladder which was originally at the back of the roof-rack, but this bent the panels slightly, so I fitted some tread plate there

Longer chassis body, and extra axle

I stretched Marmalade by rebuilding on a longer chassis, as a six-wheeler.

Side steps

These fold up out of the way as needed.