John's Land Rover HPV rack page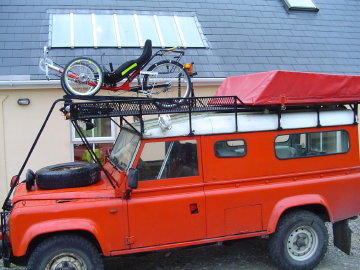 Having bought an Optima Rider recumbent trike, I naturally wanted to be able to take it with me on Land-Rover journeys. Here is a picture of it on my roof rack, and then the sequence for lifting the trike up there. (The red box visible at the back of the roofrack is a rooftop tent.)
Stage 1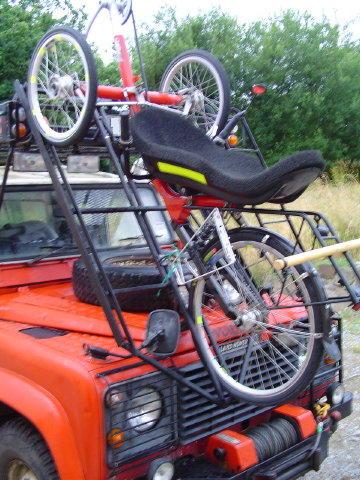 I lift the trike directly onto the ramp, and push it up the ramp, then tie it down (just under the suspension -- I will change this from a piece of rope to a hook some time).
The ramp is held to the roofrack by at the front of the roofrack, by a mounting that lets the ramp both tilt and swivel. The mounting can also slide along the ramp, between the two central rails (visible in front of the windscreen in this picture).
Stage 2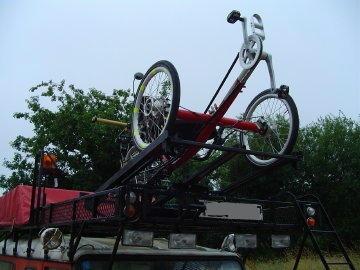 I push the ramp itself up (it slides along the pivot mechanism) until the trike's centre of gravity is over the pivot bolt, then turn it through a half-circle. (I have improved this since taking this picture; there is now a telescopic handle, that lets me pull it up from above, standing on the roofrack.)
Stage 3
Now I pull the ramp back (along the pivot bolt) so the trike and ramp are resting entirely on the roof-rack. A peg at the back of the ramp engages with a bracket on the edge of the roofrack, to hold it steady and stop it swinging across the roofrack.