John on Exmoor
Exmoor is one of my favourite places, a beautiful area, mostly of open moorland, in the West Country. Much of it is in the Exmoor National Park, and so it is looked after by Park Rangers. It is upland with some steep valleys in it. Much of the land is covered in heather, and is grazed by Exmoor ponies, a breed of small horse that is well-known throughout the world.
Exmoor is mostly in Somerset. Exmoor is on-line now, courtesy of the University of Exeter.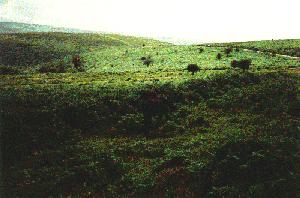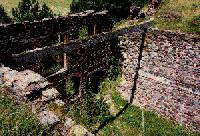 There used to be considerable (coal? tin?) mining on the higher parts of Exmoor, and there was a railway taking the wagons to Minehead. To get onto the high moorland, the trains were winched up the Coomberrow incline by a static engine; the engine house was built into the embankment that the track ran on at that point. It is now unfortunately largely derelict; I hope someone will start to preserve it before it is completely ruined. It would make a very distinctive house!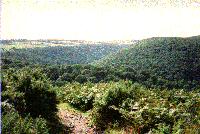 The image here is a link to a larger one; Feel welcome to download it and use it as you like (I took the photograph myself); I think it makes a pleasant screen background.
One of my favourite viewpoints is called Webber's Post, which has some extremely beautiful views over the valleys of Horner Water and East Water. However, I'm not that keen on ``viewpoints'' as they can get rather crowded... far nicer to wander off across the moor (being careful not to damage the plants or the soil).
It is well not to romanticize places like this -- they can be very bleak at times!
East Water and Horner Water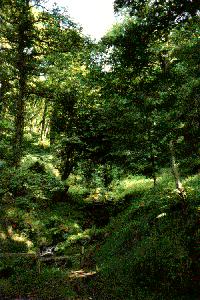 The hamlet or village of Horner is, unsurprisingly, touristed, but the valley of East Water is usually fairly empty, and well worth a visit, although some people find the road along the valley side somewhat nerve-wracking -- one of the rangers relates finding someone driving along with her eye on the downhill side shut as she didn't dare look! East Water is the valley to the left in the view from Webber's Post.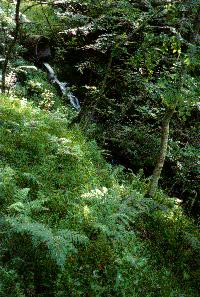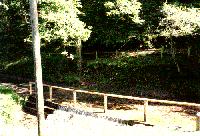 Here are a little stream channelled down the valley side into East Water (with a gradient like that, perhaps it's unsurprising that some people don't like to look down while driving past this), and a ford over East Water.
High on the moor is Nutscale Reservoir, in a lovely isolated little valley, one of the most pleasant places in which to go for a walk, descending along a little stream through the moorland, with quiet side valleys branching in.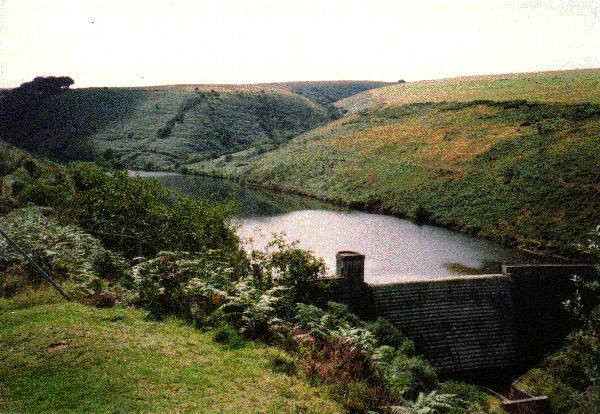 The image here is a link to a larger one, which I like so much I often use it as my screen background. Feel welcome to download it and use it as you like (I took the photograph myself).
The reservoir itself is fenced off -- it would be tempting to take a dip otherwise! (A highish-altitude reservoir in which one can sail is Siblyback in Cornwall.) In the dry summer, it seems extraordinary that enough rain falls as high as here to fill such a reservoir -- but in the spring rains, you know it makes sense!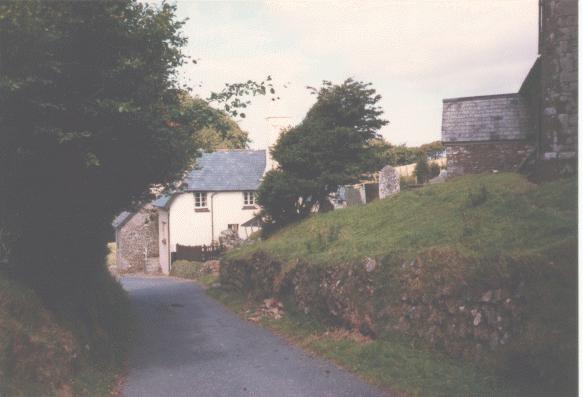 Very high on the moor above Porlock is the tiny hamlet of Stoke Pero, which has the highest church building in England (at least in terms of altitude!). This church is only Victorian, although it looks quite old. All the material for it was carried up (from Porlock, I think) by one donkey. (At first, I thought ``That's some donkey!''; but it turns out it made several trips...)