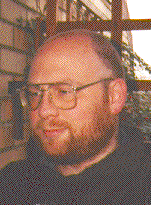 I am John Sturdy, of Limerick, Ireland; a computer scientist, bell-ringer, Christian, Land-Rover owner, calligrapher.
These pages contain a variety of material written for a variety of reasons. Some of it is to share knowledge that I have acquired and found useful; some of it to express ideas and values that are important to me; and some for the joy of creativity; and perhaps some of them to fill some time which I would otherwise have used more usefully but perhaps less creatively.. And some of it is to tell you ``who is this guy?'', in case you were wondering.
To which John Sturdy do these pages belong?
These are the web pages of John C. G. Sturdy; I have written a short obituary of my father, Revd John V. M. Sturdy. You can also see a list of my immediate family.