John C. G. Sturdy's home page
---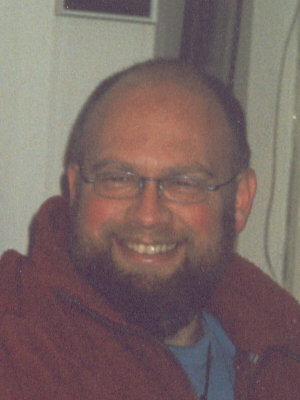 I'm John, and this is the top of my web tree, in which the main contents are:
my essays on a variety of topics
In full (avoiding false modesty about qualifications), I am Dr. John C. G. Sturdy, M.A (Cantab), PhD (Aquae Sulis), and I was born in 1963. (I include my initials to avoid confusion with my late father, the Revd John Vivian Mortland Sturdy, M.A. Oxon, (also M.A. Cantab, M.A. Cantab.))
Decoded a little, this means I did my doctorate at Bath University, having done my first degree at Cambridge.
What I am
I am a Christian, of the Anglican variety. (However, there is a coercive social system which also goes by the name Christianity, and I don't wish to be associated with that.)
My personality type, when tested, first crashed the testing software (I suppose this must make me an SEGV!), then was revealed as a strong INTJ (Introverted(100%) iNtuitive(85%) Thinking(85%) Judging(80%)), the classic ``Scientist'' type (also described as The Portrait of the Mastermind (iNTj) :-) This is a personality type I'm happy to be!
In terms of study and work, I'm a computer scientist who works largely in, on and around program development and programming language interpreters. I'm naturally inquisitive, particularly liking to look in depth at the principles underlying things (particularly representation and significance).
How and why I am
When I can remember what means a lot to me, I'll write it down here -- I've just made a few notes for now. However, my essays let out a few clues about this.
Integrity and loyalty are the personality values that I think of as most important, and consider them to be described well as in ``one who, having made a promise, will not go back on it even if it turns out to be to their own disadvantage'' [Psalm 15:4]. Of course, those who work this way are taking on a burden of responsibility.
Where I am
For me life is preferably an outdoor activity, and I lived outdoors for a small part of my student life. I now make my home in a reasonably remote house outside Limerick in Ireland.
I've written a few pages about some of my favourite places (and also some of my less-than-favourite ones).)
---
What I do
I currently work as a programmer in the BDS group of the Computer Science and Information Systems Department at the University of Limerick in Ireland. Before that, I was a postdoctoral research fellow, and before that, a programmer in industry for over a decade.
Pray and worship
As a Christian, my life includes corporate and individual worship and prayer.
I'm not settled in any one church; last time I had transport that would get me there readily, I worshipped at St Michael's, in Limerick City Parish, and also sometimes at the Cathedral itself. I also sometimes go to services and studies at Glenstal Abbey, which I live near.
I'm continually aiming to learn more, particularly in computer science, philosophy, theology, spirituality, mathematics, natural languages and linguistics; and also to pick up new practical and physical skills.
My biggest single piece of study so far has been my PhD, on the causal links between self-as-agent and self-as-object in a hierarchical structural field, using procedural and functional interpreted programming languages.

I was for a long time an enthusiastic learner of change-ringing.
Communicate
I like to communicate, in natural languages as well as computer ones. Also, I can write and read Standard English Braille.
Think
And therefore, according to one theory, am. However, this does seem to be somewhat flawed, in that I appear to continue to be even when I'm not thinking. And, anyway, after further thought, it seems more important that We think, therefore we are.
I like to think, sometimes writing thoughts systematically in essays as a base for further thought. But I wouldn't like to have knowledge and thought without wisdom and compassion.
Help
I like to help people to do things... at least, for things that I'm interested in. So if you're interested in getting into any of the things I'm interested in, contact me and I'll try to give a helpful reply!
The pages I get most mail about are about a A Christian approach to Cognitive Therapy and converting a bike to a trike. Although I generally take a ``wholistic'' view of things, I don't believe that everything's causally interconnected, and don't particularly see these pages as closely linked (despite my having a beard and often wearing sandals).
Everyday things like shopping
I don't like to have to do this, but it works out as being useful. I've made a list of shops I use (originally written to help a new neighbour, now on-line to be useful to new neighbours in the generic sense).
Other interests
Creativity

Travel

Camping

Reading

Music

Cooking

Truck driving
---
Other things
Style
I tend to dress somewhere between casually and scruffily... my clothing of choice is shorts and tee-shirt in summer, tracksuits in winter (although friends have talked me out of my scruffiest old tracksuits); or combat trousers, because the pockets are handy; I tend to go for whatever is practical, and if I usually look like I'm ready to mend a bicycle, it's because I usually am ready to mend a bicycle. Dressing tidily from time to time is fun (partly because of the surprise I cause at the contrast!) and I get up in the usual DJ (tuxedo to USAicans) with academic gown when appropriate. I cause more surprise when I put my warrior kit on, however (sorry, no photo on-line)!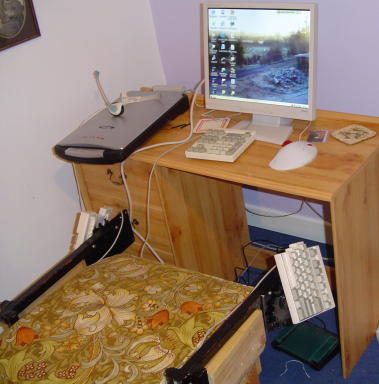 I am known for disliking mice (the computer kind, anyway; I like small furry animals)... I am a traditional Unix and Emacs person... and for disliking WYSIWYG systems. I prefer keyboards over pointing devices, and like to see an explicit and complete representation of what a program is manipulating... to see the logical structure of a document or other file; unsurprisingly, I like HTML to represent my documents!
I have written more about my computer use on a separate page.
Some time I'll write an essay about the importance of working with the real structure of a represented object, and more generally about the importance of understanding what underlies the surface of anything. Not surprisingly, my favourite programming language is Lisp.
I come from a large family; we've started to build a Sturdy family page, but not all of the family have their own pages yet.
My father, John Vivian Mortland Sturdy, died on July 6th, 1996, and I have written a short obituary which I will extend into a fuller celebration of his life.
My mother, Jill Sturdy, died on August, 1998; we also have her obituary available on-line.
---
Last modified: Mon Jun 16 10:10:22 IST 2008
John C. G. Sturdy <
Contact me
>