My home
I currently live in a bungalow in a village east of Cambridge.
Previous houses
The house at the top of the hill / An teach ar an barr an cnoc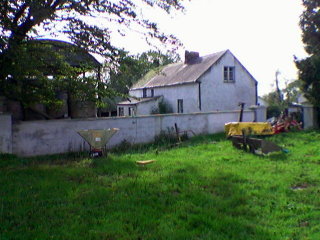 I lived in an old farmhouse on the top of a hill in the countryside outside a village in County Limerick, Eire. It's quite a traditional house, heated by a range and a fireplace.
It's a thoroughly rural location, too; when I moved there, it wasn't even on an actual road. (The council built a road to it while I lived there.) The last three legs of the route are farm tracks. The final stages of the directions could be given in terms of which dogs come out and bark at you as you pass: ``Go straight ahead at the St Bernards, turn left at the German Shepherds, follow a sharp right at the Border Collie, and bear left at the Jack Russell.''
The house at the bottom of the hill / An teach ar an bun an cnoc

Before that, I lived in a gloriously roomy house at the bottom of the same hill. Initially it had a whole field for a garden (unfortunately later partly fenced off for horses, but while it lasted it was lovely to look on such a wide uninterrupted expanse from the windows).
Hardwick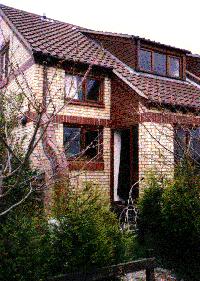 Before that, while I was a programmer, I lived in a starter home in a former/commuter village in Cambridgeshire, England. At least it wasn't just a box shape, but it wasn't terribly interesting.
There's not much storage space in a house like that! I find it hard to understand how people live without practical things. I presume they have to get someone to do things for them when they want to do anything beyond watching the TV.
Freshford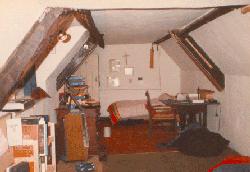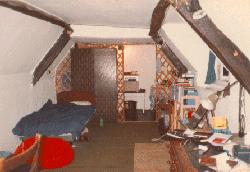 Before that (while I was a research student), I lived in various lodging rooms in Freshford and Limpley Stoke, Somerset/Avon. The pictures show an attic room with character. The house was timber-framed, but stuccoed over to look more modern.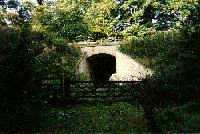 One summer, when I had to move out of one place before I could move into another affordable one (I was a student at the time), I camped in a rather nice tunnel under a main road.
Cambridge
Before I was a postgraduate student at Bath, I was an undergraduate at Cambridge, and lived in college there. I was also brought up in Cambridge. Going to college in the town where I was brought up seemed strange at first; I went to completely different sets of places in and out of term, and it was like two towns with the same street plan.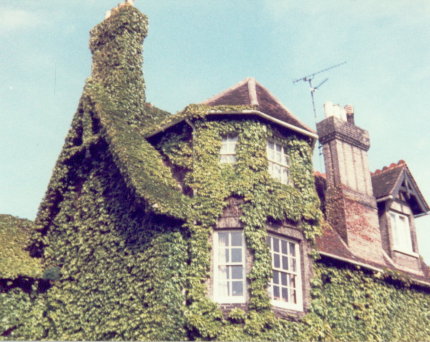 Before university (and out of term when I was a student), I lived in the family flat over the school that my mother founded. It's a magnificent Victorian building, a pair of large semi-detached houses.
We moved there when I was in the last couple of years of senior school. We had lived in North Chesterton before that; and had moved to Cambridge from Wells, where my Dad had taught at the Theological College.